Popping Boba Machine
Shanghai SINOFUDE Machinery Co., Ltd. is a modern enterprise specializing in the R&D, manufacturing, and sales of candy. Its Popping Boba Machine has been exported to many countries and regions in the world, such as Singapore, the United States, Canada, Pakistan, etc., and has always been at the leading level in the industry.
Shanghai SINOFUDE Machinery Co., Ltd. has many years of historical experience in the production and development of the Popping Boba Machine and has mastered the most advanced production technology. With rich experience, its popping boba making machine has superior performance and can process and produce different types of high-quality candies to meet the market demand.
Candy has always been one of the most popular food products and the market is very wide. If you want to make a big difference in this industry, Popping Boba Machine is the ideal choice for you.
SINOFUDE will provide you with the most ideal machine with the best price and the most perfect service.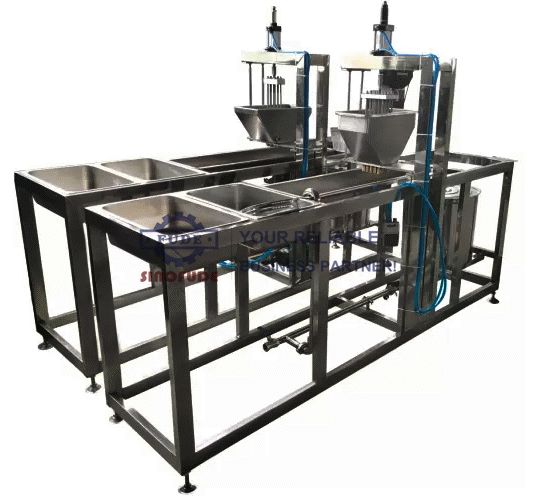 Boba Machine Detail Introduction
Popping Boba Machine
Popping Boba Machine production process: forming liquid feeding → titration → forming → water circulation cleaning → finished product output.
Three kinds of liquids are needed to make popping beads.
1. Fruit juice liquid
The liquid mainly includes water, glucose syrup, calcium lactate, calcium chloride, white sugar, xanthan gum, fruit juice concentrate, malic acid, etc. This liquid is wrapped in the body of the beads.
2. Sodium alginate liquid
The liquid consists of sodium alginate and water, and water is used to wrap the outer solid layer of the juice.
3. Protective liquid
The liquid is made of water, fructose, etc. It is mainly used to preserve the well-made popping beads.
First, sodium alginate is added to water and stirred until thick, and then the mixture is cooled.
In addition, calcium chloride was added to the water and stirred thoroughly.
Mix the mixture of food coloring and sodium alginate. At this point, you can choose to use different food coloring to make different colors of popcorn beads.
Drop by drop, the mixture is added to the water to form popping beads, which are liquid on the inside and solid on the outside.
The pop beads are removed from the water using a strainer and gently rinsed with water to remove the excess calcium chloride.
Finally, package them, you can add some protective liquid at the same time.
More description
SINOFUDE combines the advanced production experience at home and abroad and draws on the needs of many manufacturers, making the machine with superior performance, very much in line with the production needs of major manufacturers.
The automatic boba-making machine adopts high-quality 304 stainless steel and internationally famous brand components. The popping beads made are small and lovely, beautiful and round, which can be eaten directly or used for milk tea, ice cream, other food decoration, and many different kinds of candies.
The production model has a high degree of automation, equipped with a PLC control system, reasonable design, simple operation, high utilization of raw materials in the production process, less waste, and no "three wastes" problem, to achieve green production.
Now the popping beads market is very good, not only because the popping beads have a very peculiar edible experience, but also because the popping beads are very versatile, the demand is very large. Therefore, the choice of a cost-effective Popping Boba Machine will make your processing and production more smoothly.
To be able to benefit more companies, our engineers have gone through many repeated trials, and finally to ensure the quality of boba maker machines under the premise of effective control of production costs, can give manufacturers the most favorable prices, so that manufacturers in the competitive market, with a stronger competitive advantage.
SINOFUDE is a real customer-oriented enterprise, that can provide customers with a full range of services, and a quality blasting boba maker machine can provide customers with customized services. As long as the customer tells us the production requirements, our engineers will customize the most compatible Popping Boba machine for the customer.
In addition, production molds, etc., can also be customized. If customers have their inventions and want to introduce more attractive Popping Boba in the market, we can also provide the most helpful for them.
SINOFUDE has a strong design and development team with rich development experience. They come from famous universities at home and abroad and have many years of R&D experience. At the same time, SINOFUDE has strong financial strength and invests a lot of money in R&D every year, constantly upgrading the R&D machinery, and its achievements have always been at the leading level in the industry.
SINOFUDE never stops innovating; we are committed to the research and development of new equipment to promote the development of the industry. We grasp the most cutting-edge market information, and the Popping Boba Machine we produce has been well received by domestic and foreign manufacturers.
Quality is always the first criterion to identify the quality of equipment. We can assure our customers that our equipment must be the highest quality among the popping boba-making machines in the same price range. Win-win cooperation is our goal. If you have any needs, welcome to contact us, we will be happy to serve you!
What Is The Best Fude Popping Boba Machine?
Popping Boba Machine: complete buying guide.


The market prospect of popping boba is very promising. Do you want to start your own business?
Here's a comprehensive answer to your questions about Popping Boba Machine and Popping Beads.
1. What is boba?

Popping boba is a special kind of small fruit juicy candy. The juice is wrapped in a "liquid film" through a special process. Its appearance is similar to fudge, but the taste is very different. When you bite into it, the juice will "burst" in your mouth, creating a wonderful flavor and a very wonderful experience.
The "film" is made of seaweed extract, which forms a very thin gel-like coating, but it is less chewy and easier to chew, allowing the juice inside to burst out instantly.
2. Benefits of Popping Boba Machine

(1) High-quality equipment
The whole production line machinery is made of food-grade stainless steel, which is stable, reliable, durable, and long-lasting. Our mechanical parts are made of world-famous brands, with superior performance and not easy to be damaged.
(2) High capacity
PLC control system and highly automated production method can effectively improve the production efficiency, and the production capacity of different types of equipment is different, you should choose the most suitable one.
(3) High productivity
It has excellent performance and is very reliable. It will work optimally and all your production needs will be met as long as the machine is in good working condition.
(4) Production versatility
The high-quality automatic boba-making machine offers you more production options. Different boba requires different recipes, and because our machines are fast and efficient, you can produce all types of boba, which means it can satisfy different customers with different tastes. Also , our machines can produce different shapes, sizes, and fillings of boba.
(5) Low cost
In the long run, our Popping Boba Machine can effectively reduce your production costs because it is highly automated, as it does not require human intervention during the production process, thus saving a lot of labor costs. Also, less raw material is wasted in the production process, which can effectively reduce your raw material cost. In addition, it is energy-saving equipment, which saves more electricity during the operation. In many ways, it can effectively reduce your production costs.
(vi) Effectively increase sales and profits
When the production capacity of your machine is improved and you can produce more high-quality and reliable boba, it means you have the advantage of selling more and thus attracting more customers. Because we are in the age of mechanized production, it is well known that efficiency is life. What's more, on-time delivery helps you to build a long-term cooperative working relationship with your customers.
Top Popping Boba Machines In 2022
3. Support equipment purchase Popping Boba Machine

To ensure smooth production, we recommend you purchase some supporting equipment for the Popping Boba Machine, including
Automatic sealing machine (allows for sealing operation and ensures consistent product quality)
Vibrating screen (to shake the drink well to ensure the mixture is well mixed)
Automatic fructose dispenser (for easy operation and product quality)
Automatic ovens (boil water and ingredients to help your production)
4. How to verify the quality of the Popping Boba Machine

A quality production line provides the most help for the manufacturer. If you want to verify the quality of the popping boba maker machine, you can do it from the following aspects.
Machine material: preferably stainless steel, durable and easy to clean, long service life.
Production efficiency: The highly automated production effectively improves the production efficiency and the PLC control system makes the operation easier.
Certificate: High-quality Popping Boba Machine should get several quality certificates.

5. What are the characteristics of Popping Boba?

The common shapes of Popping Boba are spherical and oval. Our production line provides different molds for manufacturers to produce more shapes of Popping Boba to attract more consumers.
The main flavors of boba are strawberry, mango, blueberry, green apple, sweet orange, lychee, grape, chocolate, etc.
The main methods of consumption: are direct consumption, room temperature or low-temperature cold drinks, milk tea, juice drinks, milk drinks, cakes, tart filling, ice porridge, and other decorative.
How To Make Boba Tea Bubble Tea Using A Popping Boba Machine?
6. Types of popcorn machines on the market

There are automatic production lines and semi-automatic production lines. Different technologies have different prices for the equipment. Automated production lines have higher production capacity.
7. Popping Boba Machine parts

The main device of the Popping Boba Machine includes a titration system, forming system, filtration system, cleaning, and curing system, filling and sealing system, sterilization system, PLC central control system.
Specific parts include jam hopper, rinsing system, cleaning system, feeder, and operation panel.
Specific equipment includes the colloid mill, vertical sandwich pot, cooling tank, transfer pump, and forming unit (pouring system, material tray transfer system, sodium alginate circulation system, boba filtration system, cleaning system, etc.).
8. Working Principle of Popping Boba Machine

The principle of popping boba is that water-soluble alginate reacts with calcium ions to form cross-linkages between the macromolecules and form a gel layer. This is the working principle of our sodium Popping Boba production line.
SINOFUDE uses spheronization technology to produce popcorn. The juice is added to the sodium alginate and stirred well, and the mixture is slowly dripped into the calcium lactate solution. When sodium alginate enters the solution, it reacts with calcium ions to form an ultra-thin film of calcium alginate spheres, which encapsulates the inner juice and forms the Popping Boba we eat every day.
9. What are the ingredients of Popping Boba?

The main ingredients are water, sugar, juice concentrate, food additives, calcium alginate, calcium lactate, etc. During the production process, different flavors and colors can be added to make different flavors colors, each of which has a very popular crowd.
10. Limitations of Popping Boba Machine

As good as the equipment is, there are always limitations, and so is the boba line. The biggest limitation of this equipment is the smaller capacity of the semi-automatic machine and the more expensive price of the automatic machine.
11. Popping Boba Machine verification file

When purchasing equipment, attention should be paid to whether the equipment has obtained the following certificates.
CE: The electrical equipment complies with the standard.
FDA: The device complies with human health standards.
ISO: indicates that the device is in stable condition and of high quality.
In addition, there are various verification documents, the more equipment verification, the more reliable the quality.
12. Industries that use Popping Boba Machine

Our Popping Boba Machine mainly produces Boba, which is very versatile and can be consumed directly or used as decoration for ice cream, cakes, etc. Therefore, the machine has a wide range of applications in many industries. Such as the cold drink industry, cake industry, cookie industry, cocktail industry, etc., but mainly used in the food and beverage industry, it is recognized by the majority of popping boba makers.
13. How much is the Popping Boba machine

Popping Boba equipment can produce a variety of shapes and colors of popping beads, widely used in many industries, changing the mold can change the shape of the popping beads.
Standard Popping Boba production equipment costs $10,000 or more, and its basic equipment includes a gas or electric stove, blender, mixer, shaker, sealer, refrigerator, and ice machine.
In addition, the price of different equipment varies, with fully automatic lines being more expensive than semi-automatic.
14. How to troubleshoot Popping Boba Machine

(1) Check the appearance of the equipment for any difference, damage, loose fasteners, insulators for carbon black, etc.
(2) Check whether the graphics on the monitoring instrument or indicating device are normal.
(3) Whether you can hear any strange sound on the production line.
(4) Smell when operating.
(5) Test the operating parameters and insulation resistance value of the equipment with ordinary measuring instruments.
(6) Clean, maintain, and inspect the equipment regularly according to the requirements of the equipment maintenance cycle.
15. Popping Boba Machine Maintenance Process

Proper maintenance of the equipment can help you always meet your production capacity and have a longer service life. At the same time, for manufacturers, the shorter the maintenance time of the machine, the longer the start-up time, and without delaying the production cycle, which helps a lot for the stability of the customer.
The right way to maintain your Popping Boba Machine is to wash it with a spray gun after production and keep it clean daily so you don't have to spend a lot of time cleaning it.
In addition, if you find a damaged part of the line, it must be replaced immediately. If replacement is delayed, there will be bigger failures, which will cost you more in maintenance costs.
For moving parts, make sure they are well lubricated to avoid excessive wear, so lubricate them regularly.
When you need to change any diagram of the machine, make sure to use the original parts recommended by the manufacturer for a better fit of the parts. Otherwise, counterfeit parts can cause the line to break down frequently, so you will need to spend more money on repairs.
As long as you follow the above maintenance methods, you don't have to worry about the service life of the machine.
16. The future of Popping Boba Machine

Candy has always been a favorite food of the public, whether, in leisure time or busy work and study time, candy plays a very important role. Adults have higher economic power and stronger purchasing power, so don't hesitate to seize the adult market and gain lucrative profits.
Today, the more popular types of candy for adults are fudge and Popping Boba, which are more popular and in greater demand because they are richer in flavor and not as sweet as regular candy. Nowadays, Popping Boba is in great demand in the market. Popping Boba Machine helps to pop boba makers to gain a wider market with higher production efficiency and higher quality, thus gaining more profit.
In the future, the production line will be highly automated and the production process will directly determine the quality of the machine.
17. Why choose SINOFUDE?

SINOFUDE equipment has excellent performance and quality is well received. All its materials are stainless steel and all its components are world-famous, which makes its machines last longer. The company can produce different types of sweets with high production efficiency and quality.
In terms of price, our engineers have effectively controlled the production cost to provide manufacturers with better prices. It is very beneficial for the companies who want to stand out in this industry. It is the ideal equipment to reduce the production cost and expand the market scale.
Now, Popping Boba has become one of the most popular food products in the candy industry, with a very broad development prospect. We have established long-term relationships with many well-known companies to help them improve product quality and expand the market. If you also want to have better development in this industry, welcome to contact us, and we believe our production line will help you reap the benefits!