Chewing Gum Production Line
SINOFUDE Machinery Manufacturer is a professional manufacturer of food machinery and candy machinery. Our company aims to develop, manufacture, sell and after-sales service as a whole to achieve perfect cooperation for customers and manufacturers. Meanwhile, our company actively listens to customers' opinions. Our product structure is constantly updated and improved, and the equipment is rationalized.
The belief of SINOFUDE Machinery Company is to update product performance constantly and improve product quality. High-quality talents naturally have extraordinary performance. What's more, our professional service strongly guarantees the high quality of products.
SINOFUDE Candy Machinery has now become a trusted product in the food and candy industry. Our chewing gum manufacturing machinery has been generally recognized by customers and sold all over the world and trusted by them. We will, as always, use our unique honesty and diligence to reward our customers for their years of support to our company.
The chewing gum production line is specially designed for the production of uncoated chewing gum or square sugar shell coated chewing gum. The whole line consists of mixer, primary extruder, secondary extruder, conveyor, double-sided powder spraying machine, pastry rolling machine, vacuum powder suction machine, sugar dividing machine, packing machine, etc.
This line is a piece of advanced equipment for producing different colors and flavors of chewing gum. It is used to make all kinds of chewing gum, such as square, rectangle, sphere, diamond and other special shape chewing gum. The whole machine can be fully awakened continuously at one time, fully automatic PLC control or single control of each unit.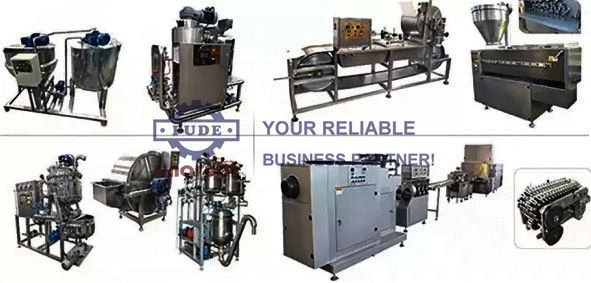 Chewing Gum Production Line Recommend Products
Chewing Gum Production Line Detail Introduction
Diagram of Production Process
Colloid melting → Mixing and kneading → Extrusion → Rolling and pressing → Forming → Destarching → Coating → Dehumidification → Finished product
Main Features
1)Adopt frequency conversion technology, which makes the machine work reliably.
2)Adopt four-screw extrusion technology, which makes the candy well organized and tasty.
3)Adopt PLC control technology, high automation, simple and convenient operation.
4)Adopt double extrusion technology, which makes the gum base evenly organized and has good taste.
5)Adopt vacuum powder suction device, which greatly improves the working environment.
6)Adopt horizontal roller dust collector to ensure smooth and burr-free chewing gum.
The chewing gum production line is mainly composed of gum base oven, mixer, extrusion and molding integrated machine (extruder, conveying and spreading machine, skin making machine, powder absorbing machine, molding machine), sugar coating machine and other parts. The production line is automatically controlled by PLC program. Hygienic design, powerful function, compact and reasonable structure and beautiful appearance. It is the ideal equipment for all large and medium-sized food enterprises to produce chewing gum.
With the continuous development of the times and the continuous progress of science and technology, the development of the Chinese food industry is also in full swing. In recent years, the candy industry as a major industry in China has also developed rapidly. Its market prospects are very promising.
New products are changing day by day with a wide range of varieties. So far, China has become the world's second largest candy market. These distinctions also drive the country to put forward more and higher requirements for candy machinery. It is required to work harder in the production of candy making equipment.
With the rapid development of the domestic candy industry, the competition of candy enterprises is increasingly fierce. To get a place in the market, candy enterprises must comply with the current changes in market demand. To meet the requirements of the times, we must use high-quality equipment to produce high-quality products.
SINOFUDE Machinery Manufacturer is the first manufacturer in China to establish a complete candy production line with years of manufacturing experience. We are also one of the leading professional exporters in China, supplying high quality candy, chocolate, cookie and packaging machinery to domestic and foreign customers.
Our Bubble Gum Production Lines have been exported to Eastern Europe, South America, Middle East and Southeast Asia. We have gained the trust and support of customers all over the world. We are looking forward to having a long-term friendly cooperation with you. If you buy equipment from us, we will provide you with the best service and reasonable price!
In terms of recent market situation, it is very important to choose good equipment, which is related to the development of enterprises. Combining customers' suggestions with experience, our equipment actively improves to meet the needs of candy processing plants. Obviously, it is your best choice!
Chewing Gum Production Line: A Complete Buying Guide
If you are a chewing gum lover and interested in chewing gum making, or if you are a candy processing factory and want to buy candy making equipment, then come and have a look at the following content, it will be of great help to you.
1. Brief Introduction of Chewing Gum
Chewing gum is a kind of candy for people to chew in their mouths, based on natural gum or glycerin resin as the colloid, adding syrup, mint, sweeteners and other blending and pressing. It is very popular. It is a small snack that consumers are very fond of, both to eat and play, which is especially loved by children and young people.
Chewing gum has also become a new favorite for most young people to look cool and fashionable. It also has multiple benefits in the field of cognitive science by enhancing oral health and the facial muscle movements brought about by chewing gum.
2. Classification of Chewing Gum
There are three kinds of chewing gum, plate chewing gum, bubble gum and sugar-coated chewing gum. Plate chewing gum is the main product, which shares the most sales. The sugar body of bubble gum can be blown into dermal bubbles through oral exhalation. The gum resin is often used to strengthen its dermal strength. Sugar-coated chewing gum is made by hanging sugar coating on the surface of chewing gum through a rotary kettle.
3. The Effect of Chewing Gum
Chewing gum has a strong viscosity. Chewing gum helps exercise the muscles of the mouth, while the secretion of saliva can promote digestion. In addition, chewing gum can remove the food residue on the surface of the teeth. Such mechanical stimulation can increase the secretion of saliva, rinsing the oral surface, so as to clean the mouth. Chewing gum promotes facial blood circulation and muscle exercise. It also promotes the development of teeth and jaws
4. Is Chewing Gum Good or Bad for Teeth 
Although chewing gum has many effects on human health, every coin has two sides. Do not overeat or chew it too long in case of adverse effects on health.
First of all, most chewing gum is sweetened by sucrose. When chewing gum, the sugar will stay in the mouth for a long time, and the cariogenic bacteria in the mouth will use sucrose to produce acid, which will corrode the teeth and cause decalcification of teeth, thus causing dental caries.
Secondly, people who have had their teeth filled with mercury-containing materials are advised not to chew gum. Chewing gum regularly can damage the material used for fillings in the mouth, which can release the amalgam and cause excessive mercury levels in the blood and urine, thus causing harm to the body.
In addition, chewing gum is also bad for children. As children's self-control is poor, there is a strong possibility that keeping chewing gum in the mouth all day long will bring about swallowing or accidentally entering the airway, which can be life-threatening. If children chew the gum for a long time, their chewing muscles are always under tension. Therefore, children may develop the habit of grinding teeth in their sleep, thus affecting the quality of sleep of children.
It is noted that do not chew gum for more than fifteen minutes. People with stomach problems should not chew too much gum, because chewing gum too long will reflexively secrete a lot of stomach acid. If eaten on an empty stomach, symptoms such as nausea, loss of appetite and acid reflux may occur. In the long run, other diseases may occur.
5. Brief Introduction of the Chewing Gum Production Line
Making chewing gum is a new processing method. Water-cooled rolling technology of six-stage is a guarantee to the quality of the final product. The chewing gum production equipment is indispensable equipment for making chewing gum, which is automatically controlled by PLC to change the internal structure of the candy, improve the quality and make it taste good. The use of this machine increases the efficiency, improves the taste and quality of the candy, and creates a new era of candy production in China. The chewing gum production equipment is the best choice for making chewing gum.
6. Benefits of Chewing Gum Production Line
(1) The chewing gum production line is designed and manufactured by German technology and it is controlled by PLC system.
(2) The gear is driven by three-phase asynchronous motor, and the seven-position packing tray moves intermittently.
(3) The lubrication system is automatic spraying. The whole machinery works stably, easy to maintain and simple to operate
(4) All parts in contact with the product are made of non-toxic materials, which fully meet the requirements of QS certification.
(5) Automatic cutting, single-layer or double-layer double twist packing, also can be folded and packed.
7. How Chewing Gum Production Line Works
The principle of candy machinery is similar. First, melt all the raw materials and process, flavor neutralization, etc.. Then put them into a specific machine for cooling. They will turn into a designed shape. Finally, package with a packaging machine. Thus the product can be put on the market for selling. The most important part of the candy machinery is the sugar boiling machine and packaging machine. The principle of candy machinery all have one thing in common--melting, processing, then cooling, molding and packaging.
8. Parts of Chewing Gum Production Line
Chewing gum production line consists of mixer, extruder, six-pass flattening, forming machine, cooling and conveying cabinet, automatic granulating machine and coating machine, which can produce various shapes of candies (such as square, rectangle, piece shape, etc.). The whole machine can produce reliably, operate flexibly and easily, and has a high degree of automation, which is the best choice for producing chewing gum at present.
9. Types of Chewing Gum Production Line in the Market
There is a variety of candy machinery, whose method of classification is also complex. First of all, because of the various types of candy, and different materials and shapes, most candy machinery can only produce a certain kind of candy. Thus candy machinery is also named according to the name of the production of candy. For example, The machine that produces chocolate will be called chocolate machine, while it will be called fudge machine for the production of fudge. There are also malt candy, dumpling candy, sandwich candy, etc..
What's more, it can be classified according to the function of candy machinery. With the development of science and technology, people have also invented the multifunctional candy machinery, which has the ability to produce a variety of candies. It can also be classified according to the different models of candy machinery, such as candy packaging machine, granule packaging machine, powder packaging machine, liquid packaging machine, etc..
10. Chewing Gum Production Line Maintenance Process
To ensure the service life of the equipment, routine maintenance and care is very important. Caring for the equipment through general methods such as cleaning, placing, lubricating and adjusting to maintain and protect the performance and technical condition of the equipment is called equipment maintenance.
There are four main requirements for Chewing gum production line maintenance.
(1) Clean the inside and outside of the equipment to ensure that the sliding surfaces, screws, racks, gearboxes, oil holes, etc. are free of oil and dirt, that there are no oil or gas leaks in various parts, and that chips, debris and dirt around the equipment are cleared.
(2) Tools, accessories, workpiece products should be placed neatly. Pipes and lines should be organized.
(3) Timely refueling or oil change to ensure that there is no continuous oil, no dry friction phenomenon, normal oil pressure, bright oil mark, smooth oil path, oil quality in line with the requirements, oil gun, oil cup, oil felt clean.
(4) Safely comply with the safe operating procedures. Do not overload the use of equipment. Equipment safety guards are complete and reliable, timely elimination of unsafe factors.
Routine maintenance is the basic work of equipment maintenance, which generally includes routine maintenance, regular maintenance, periodic inspection and precision inspection. Equipment lubrication and cooling system maintenance is also an important part of equipment maintenance. The procedures of equipment maintenance are the requirements and regulations for the daily maintenance of equipment. To adhere to the implementation of equipment maintenance procedures can extend the service life of equipment, and ensure a safe and comfortable working environment.
11. How to Troubleshoot Chewing Gum Production Line
If operated improperly in the process of production, it will lead to many failures, which brings us great damage. If certain failures occur, how do we respond and solve it?
(1) Fail to turn on
A. Power is not connected. Check whether the power plug is inserted tightly and whether the power indicator at the panel is on.
B. Power on incorrectly. Find the power button on the control panel and press to turn on the power.
C. Circuit failure. Contact your dealer for service support.
(2) No candy out
A. Preheating. Wait for the preheating to be completed, then use it.
B. The sugar output is set too low. Press the continuous sugar output button, if the sugar can be output normally, please increase the set sugar output.
C. The pipe or sugar nozzle is blocked. Press the continuous sugar button, if you hear the sound of internal motor rotation, the pipe or sugar nozzle may be blocked. You need to use warm water to clean and unblock it.
(3) Inaccurate Sugar Output
A. Fructose bubbles. The fructose machine will be left to wait for the bubbles in the fructose to exhaust after use.
B. Different varieties of fructose and different temperature of fructose. Due to different fructose and temperature, it is normal that the density is slightly different and the amount of sugar is slightly different. Please use the same kind of fructose measured at the same temperature.
C. The measuring apparatus or measuring method is not scientific. Please use the measuring equipment and apparatus with less error and use scientific measuring steps.
D. Wrong setting of sugar output. Refer to the calibration method of sugar output introduced in the manual for calibration.
(4) Drip sugar
The sugar nozzle is installed backward. Screw down the sugar nozzle and see if it is installed backward. If it is, re-install it.
(5) Sugar deficiency alarm
A. No fructose or less. Replenish fructose, and not over the lack of sugar sensor (the depth of fructose is not less than 3cm).
B. Fructose cannot be sensed. The fructose cannot be sensed by the sensor, and the lack of sugar alert function needs to be turned off.
12. Industries Using Chewing Gum Production Line
The whole Bubble Gum Production Line is suitable for making many types of candies. By changing molds or raw materials, it can produce candies of different colors, flavors and shapes. It can also produce various kinds of tablets, such as square, rectangle, slice shape, etc. It is widely used in the food processing industry.
13. Support Equipment to Buy with Chewing Gum Production Line
Chewing gum production line is divided into pouring machine, boiling sugar pot, sugar melting pot, sandwich machine, soft and hard candy production line, candy packaging equipment and so on. Each part of the candy machine plays a different role. You can buy a whole set of equipment for candy production line.
14. How much Chewing Gum Production Line Cost
Affected by many factors, the price of chewing gum production equipment has a certain difference. The equipment with good performance is naturally more expensive, which ranges from tens of thousands to hundreds of thousands. But all are very reasonable. If you buy the candy machinery of our company, we will provide the most favorable prices.
15. Chewing Gum Production Line Validation Documents
Our chewing gum production equipment has passed CE and ISO9001 certifications. The quality is reliable and can stand the test of time. The food produced also meets the national food safety and hygiene standards, healthy and harmless. All parts in contact with the product are made of non-toxic materials, fully compliant with QS certification requirements. You can eat it with confidence.
16. Future of Chewing Gum Production Line
Candy has a long history and a profound culture. Although China's candy machinery started late, but the speed of development is rising, especially in recent years. In the near future, we may become the world's largest candy market.
With the development of information technology, China's confectionery enterprises will develop faster and faster, and drive the development of the entire confectionery machinery industry. Engaging in the candy industry is a very good choice for entrepreneurs and can bring good economic benefits.
To meet the requirements of the market, we have also made unremitting efforts to improve the chewing gum making machine to meet the needs of candy processing factories from many aspects. Do not hesitate to contact us if you have any needs.
17. Our Advantages
(1) End-users prove the good performance of our chewing gum machine.
(2) Unique, efficient and labor cost-saving gum coating system.
(3) Free pre-sale, in-sale and after-sale consulting services.
(4) Free project planning and factory layout design services.
(5) Chewing gum formula and production process can be provided as needed.
(6) Customer factory commissioning service and engineer training.
(7) Provide one-year warranty and lifetime parts service.
18. Our Service
(1) Confirm the type of machine, negotiate with the customer, and select the correct machine according to the customer's requirements.
(2) Send the official quotation to the customer after confirming all details with the customer, such as payment terms, model number and delivery time.
(3) When the Chewing gum production line arrives at the customer's factory, send engineers there to install and make sure the customer knows how to operate the machine.
(4) To improve our products, we keep close contact with our customers to get their feedback and suggestions.
(5) Free warranty for twelve months from the date the buyer receives the machine.
19. Why choose the Chewing Gum Production Line of SINOFUDE?
SINOFUDE chewing gum production line combines the performance of different candy machines together, which saves the trouble of going from one machine to another and from one process to the next, saving time and even more labor cost. And the candy production line can save a lot of unnecessary processes, so that the production is more efficient.
SINOFUDE Machinery Manufacturer is a professional machinery enterprise, supplier, importer and exporter. As a professional machinery enterprise, we have many years of manufacturing experience. Focusing on food machinery manufacturing, you needn't worry about the quality of our products. We not only provide competitive and economical advanced equipment, but also provide total solutions to meet our customers' needs.
We provide the design, production, assembly and commissioning of small and medium sized candy and biscuit machines according to the specific requirements of our customers. SINOFUDE machinery manufacturers enjoy a high reputation all the time. So far, our overseas business has been spread across Europe, South America, North America, Oceania, Africa, the Middle East and Southeast Asia. Impressed by our high-quality and dedicated service, more and more partners join hands with us to create a better future together.
With skilled export experience and professional equipment knowledge, we always provide better service and innovative technical support as well as new product launches for our customers all over the world. Warmly welcome friends from home and abroad to visit SINOFUDE. Wish to step into a brilliant future with you hand in hand and achieve mutual benefits. We will always be there for you. Contact us as soon as possible!