Chocolate Bar Machine
SINOFUDE Machinery is both a manufacturer and a technical trading company. We are a professional food machinery manufacturer with many years of experience in the industry. Our main products include chocolate bar machines, candy making machines, cake production lines, cookie making machines, packaging machines, and many other types of equipment.
Over the years, our company has grown stronger and stronger. Our equipment has been exported all over the world. We have built a reputation for engineering, designing and delivering high performance total solution confectionery machinery with absolute precision to our customers around the world.
We have a perfect quality control system. Every hardware part must be checked by quality inspectors before the products are put into storage. All of our electrical components are famous brands, and most of them are imported. After each machine is finished, we invite our customers to test and run the machine in our factory to ensure the high quality of our machines. In addition, we have CE and SGS certifications.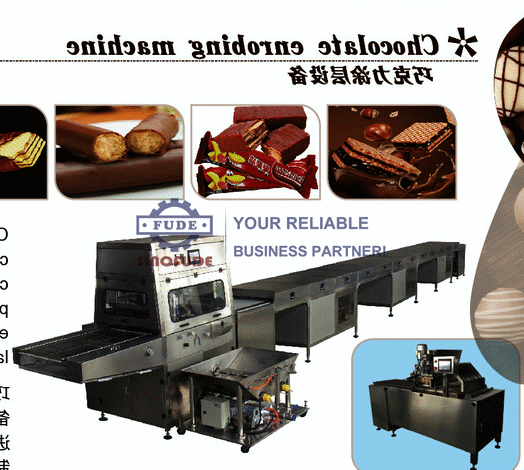 Chocolate Bar Machine Recommend Products
Chocolate Bar Machine Detail Introduction
Detail Introduction
Chocolate Bar Machine
Chocolate bar making machine is our new advanced machine, which is improved on the basis of the previous machine. With high degree of automation, smaller size and higher efficiency compared to other making machines, it is perfect for making energy bars, nut bars, chocolate bars, protein bars, coconut bars, fig bars, fruit bars, etc.
The whole process is fully automatic, including mold heating, nut crushing feeding, mixing, pouring, mold plate vibration, cooling, demolding and conveying. According to different products, You can choose the molding line of one head, two head or three head. This line is suitable for pure chocolate, sandwich chocolate, two-color chocolate, four-color chocolate, amber or onyx chocolate, etc.
Instructions of Chocolate production line
Chocolate production line includes sugar grinding machine, cocoa butter melting machine, chocolate refining machine, chocolate tempering machine, casting molding machine and pillow packing machine.
Features of Chocolate Bar Machine
1、PLC control, high degree of automation, easy to operate.
2、Pneumatic and servo motor pouring machine optional, depending on the chocolate.
3、The top of the pouring machine is equipped with crushed nut feeder.
4、The mold and hopper are made of food grade material and well-designed.
5、It is possible to customize this chocolate molding machine to make shell mold chocolate, i.e. chocolate with sandwich and crushed nuts.
Manufacturing Process of Automatic Chocolate Bar Machine
Feeding → mixing → fine grinding → refining (spices, phospholipids) → sieving → heat preservation → temperature regulation → casting and molding → vibration → cooling and hardening → demoulding → selecting → packaging.
The chocolate bar pouring machine is a new product developed by our company according to customers' requirements for low capacity and miniaturization. It can produce different shapes of chocolate bars. After mixing the raw materials, the processes of forming, demoulding and freezing are carried out automatically, and the chocolate machine can produce high quality chocolate bars with or without inner filling.
The material of the production line in contact with chocolate are stainless steel or aluminum alloy. The conveyor belt is made of PU. The insulation board can also be stainless steel, whose quality is reliable and the material meets the food safety standard. The chocolate pouring machine can also be used with chocolate cooling tunnel and other chocolate supporting equipment, which is an ideal equipment with advanced technology and multi-function.
So far, our chocolate bar machine has been widely recognized. It sells well at home and abroad. We adhere to the business philosophy of people-oriented, loyal to customers, and integrity management, aiming at world-class equipment and technology, docking with the food industry, science and technology enterprises, universities to continuously improve, innovate and develop products to provide better service to customers.
Our aim is to strive to be the pioneer in the industry, we will keep devoting ourselves to scientific research and innovation to provide better and better service to our customers. If you want to buy chocolate bar machine or other equipment, feel free to contact us! we warmly welcome customers from all over the world to SINOFUDE for consultation.
Chocolate Bar Production Line: A Complete Buying Guide
Do you like to eat chocolate bars? Do you know how chocolate bars are produced? And how much do you know about chocolate bar production line? If you are interested, take a look at the following content, which will describe the chocolate bar and the chocolate bar machine for you.
1. Brief Introduction of Chocolate Bar
Chocolate bar is a kind of mixed food with chocolate beans as its main ingredient, whose main raw material is cocoa beans. Chocolate is rich in magnesium, potassium and vitamin A and theobromine, and thus has high energy. The theobromine in chocolate is a healthy anti-sedative component, so the consumption of chocolate has the effect of lifting the spirit, enhancing excitement and so on.
However, chocolate bars are still very high in calories, so it's wise for diabetics and obese people not to eat too many chocolate bars. Do not consume too much. Also, when storing chocolate bars, store them in a dry and cool place, avoid direct sunlight, or store them in the refrigerator if the indoor temperature is too high.
2. Nutritional Value of Chocolate Bars
(1) Chocolate can relieve depression and make people excited.
(2) Chocolate is an antioxidant food, which is effective in delaying aging.
(3) Chocolate is helpful for concentrating attention, strengthening memory and improving intelligence. Some drivers take chocolate as a mental stimulant to improve driving ability, and students taking exams can also use it for brain health.
(4) Eating chocolate is good for controlling the cholesterol content, maintaining the elasticity of capillaries, and preventing cardiovascular circulation diseases.
(5) Chocolate contains as much catechuic acid as in tea. Catechuic acid can enhance immunity, prevent cancer and interfere with the blood supply of tumors.
(6) Chocolate is rich in carbohydrates, fat, protein and various minerals. It can be absorbed and digested easily and rapidly, so it is called by experts "Midwifery Hercules". If a woman eats chocolate before delivery, she can get enough strength to open the uterus as soon as possible for a smooth delivery, which is very beneficial to both mother and baby.
3. Harm of Chocolate Bar
(1) Easy to cause obesity. We all know that chocolate is rich in fat. If you eat too much chocolate, it is easy to become obese. Too much fat will also cause the risk of other diseases, such as hypertension and so on.
(2) Affect appetite and absorption. Many people like to eat chocolate in the morning or before meals, but this is a very bad habit. Chocolate is easy to make people feel full. If you eat after eating chocolate, it will also lead to non-absorption and, in severe cases, diarrhea.
(3) The consumption of chocolate causes headaches. Chocolate contains active acids that can cause headaches, so people who are often troubled by headaches should eat less chocolate.
4. Who Can not Eat Chocolate Bars?
(1) Postpartum women. For postpartum women who are breastfeeding their children, don't eat chocolate. Because the theobromine in chocolate will seep into the breast milk, so as to be absorbed by the baby, which has the risk of damaging its nervous system and heart, and causing indigestion, difficulty sleeping, cranky personality, etc.
(2) Diabetics. Chocolate contains very high sugar. Diabetics should eat less, or even not to eat chocolate.
(3) People who have heartburn should avoid eating chocolate. If they feel burning in their heart after eating chocolate, stop eating it immediately. This is because chocolate contains a substance that can cause stomach acid to overflow from the stomach.
5. How to Make Homemade Chocolate Bar
(1) First, soften the butter we bought at room temperature. If it fails to be softened, heat it slightly with a hot water bottle. After softening, add powdered sugar, and then mix with a rubber spatula, and finally mix well.
(2) Use the "little by little" method to add the egg mixture we prepared, mix well.
(3) Add 5g of vanilla extract and mix well.
(4) Next, sift in all the powders we have prepared. This step is a little time consuming and can be prepared in advance.
(5) Then, stir it to mix well using a plastic knife.
(6) Knead the flour into a ball, gently put it into the plastic bag prepared in advance, and roll it into a thin sheet. Do not make it too thick. At most, it should be 0.5cm thick. Put it in the lower layer of the refrigerator to cool until hard.
(7) After cooling, remove from the oven, cut into sticks about 1cm wide and bake on a greased baking sheet at 170 degrees for about 20 minutes.
(8) After baking, place the sticks on a wire rack to cool, and melt the dark chocolate you bought in a bowl.
(9) Once melted, pour into a cup and insert the cooled stick cookies and dip into the chocolate sauce.
(10) Then take it out and put it on the decorative chocolate rice grains to make our chocolate bar colored, so our chocolate bar is ready.
6. Brief Introduction of Chocolate Bar Production Line
The chocolate bar production machine is a special equipment for quantitative molding chocolate. This series can produce various kinds of chocolate such as single flavor, two flavor, three flavor, paste center filling and nut center filling according to the different configurations of the machine. This series has two models, semi-automatic and automatic, which can be custom configured according to production needs.
The machine is advanced in process, using molding and freezing method to mix oat flour and chocolate. After the raw materials are mixed, the processes of forming, demoulding and freezing are carried out automatically. Only one worker is needed for mixing and feeding, which can reduce the labour force. The whole machine has high efficiency and small footprint, which is the ideal equipment for small and medium-sized candy processing factories.
7. Benefits of Chocolate Bar Machine
(1) The body is made of 304 stainless steel, and the parts in contact with the machine are food-grade materials.
(2) Simple structure, compact size, friendly interface, easy operation, stable and reliable production.
(3) Product shape can be adjusted by changing different mold nozzles.
(4) You can change your size and nozzle according to your requirements.
(5) This machine can also add another hopper for making different kinds of casual food.
(6) Hopper with agitator for better deposition and optional automatic feeding.
(7) Accurate deposition is achieved by different sensors and photoelectric eyes.
(8) Customized servo motor pouring machine or pneumatic pouring machine according to the final product.
8. How Chocolate Bar Machine Works
After the raw materials are mixed, through a series of processes, the chocolate is cooled and leveled into the forming machine. The feeder will feed the raw materials into the rotating head under the action of friction. And it will be rolled into the outer edge of the forming groove. After squeezing, the raw materials will be squeezed into the forming groove and broken into chocolate bars. At the same time, the machine will push the raw materials into the forming hole with forward movement. Then it will be shoveled into the unloading hopper by the shovel, and then it will fall into the vibrating screen. After the products are cooled, they will be ready for packaging.
9. Parts of Chocolate Bar Machine
(1) Sugar grinder: mainly used for fine grinding of sugar grains and other dry particles, the average fineness after grinding can reach 100 mesh.
(2) Cocoa butter melting furnace: mainly used to melt solid cocoa butter into liquid state, also can be used to melt large pieces of chocolate into liquid chocolate syrup, with heat preservation and storage function.
(3) Chocolate refining machine: It is one of the key equipment in the chocolate production line. It is mainly used for fine grinding of chocolate raw materials, such as cocoa powder, cocoa butter, powdered sugar, milk powder, etc.
(4) Chocolate holding tank: It has the functions of heating, constant temperature and cooling. At the same time, the stirrer constantly stirs the slurry, which can deodorize and effectively prevent the separation of oil and grease.
(5) Mud pump: It is mainly used for the material transfer of two machines.
(6) Pouring forming machine: It is a very important part of the production line, which is used to pour the products into shape and complete the products.
(7) Packing machine: Finally pack the produced products.
10. Types of Chocolate Bar Machine in the Market
Our machines are available in automatic, semi-automatic and manual options. In addition, we can configure single, double, triple and quadruple heads according to our customers' product requirements. We can also add equipment and crisp rice mixing equipment with nuts, not only for the production of pure chocolate, chocolate bars, brownies, multicolor chocolate, but also for the production of cookie chocolate.
11. How to Troubleshoot Chocolate Bar Machine
(1) When using, clean the barrel with warm water first, wipe it clean and then pour in the raw materials.
(2) Supplementary raw materials should be poured in slowly to ensure output accuracy.
(3) Every time you use it,use warm water to clean the inside of the equipment.
(4) Timely cleaning and maintenance at the end of each day's work, the use of hot boiling water for cleaning is strictly prohibited.
(5) Regularly check the working condition of each part of the equipment to avoid failure.
12. Industries using Chocolate Bar Machine
The automatic chocolate bar production line is specially developed and designed to meet the growing demand for dessert products such as snickers, nougat, cereal bars, energy bars, fruit bars, chocolate bars, etc. The line is suitable for the production of any product that the market needs: energy bars, cereal bars, oat bars, mixed grain bars, protein bars, fruit bars, chocolate bars, etc.
13. Support Equipment to Buy with Chocolate Bar Machine
The chocolate bar production line includes sugar grinding machine, cocoa butter melting machine, chocolate refining machine, chocolate tempering machine, casting molding machine and pillow packing machine. The whole set of production line features high degree of automation, simple and convenient operation, and saving manpower.
14. How to Verify Quality of Chocolate Bar Machine
Our machines are of high quality, which are all manufactured with world advanced technology and imported electrical appliances, such as Omron, Siemens, Schneider, etc., to ensure stable and trouble-free working performance. You can enjoy twelve months warranty and long life guidance and after-sales service. So there is no need to worry about anything.
15. Chocolate Bar Machine Validation Documents
All materials are food grade 304 SS, making the material comply with HACCP CE FDA GMC SGS international standards. All our machines and individual parts are CE certified, CE, ISO9001 certified.
16. How much Chocolate Bar Machine Cost
Because we have our own factory, so you can rest assured in terms of price. Our prices are very reasonable, generally ranging from tens of thousands to hundreds of thousands. We also accept customization. If you buy more, you will enjoy more benefits. Welcome to contact us anytime for a quote.
17. Future of Chocolate Bar Machine
With the fast-paced development of today's era, people's demand for food is also increasing. Chocolate is also in a constant state of change. While retaining the traditional classics, chocolate bars are also making their own transformation for the new generation of consumers
In recent years, naturalization, healthiness and functionalization have become the main trend of almost all food industries. At the same time, the application of new technology of sugar reduction, high cocoa content and the addition of functional ingredients have transformed chocolate from a mere hobby product to a healthy good for young and old.
Chocolate has been with mankind for thousands of years. With the development of industrialization and technological innovation, people all over the world have the chance to enjoy a thousand different kinds of silky delicacies. The potential of the chocolate industry is huge. We believe that while chocolate brings people good enjoyment, it can also inspire them to create a better future.
In this case, the development of the chocolate industry is getting better and better. Many chocolate entrepreneurs have thus embarked on the road to wealth, which has also led to the development of related industries. SINOFUDE, as an experienced food machinery manufacturer, also sees this situation and has conducted a lot of research on the chocolate bar making machine, and finally developed this new chocolate bar machine.
18. How to Order?
(1) Customer sends inquiry to us.
(2) Confirm the machine type, order quantity, price, delivery time, payment term, etc.
(3) Our salesmen sends pro forma invoices with the company seal.
(4) The customer pays the deposit and sends us a bank receipt.
(5) Inform the customer after receiving the payment and arrange the production according to the customer's requirements and inform the estimated time.
(6) Photos of the produced products will be sent to you for approval.
(7) The customer pays the balance and the goods are shipped.
(8) If you are satisfied with the goods received, the order is completed.
19. Commissioning and After-sales Service.
(1) We do precise plant layout design according to the plant size of our customers .
(2) If customer needs, we can do the plant design including electricity, water supply, gas, material storage, final warehouse, workers washroom, etc.
(3) After the machine is delivered to the customer's factory, we start to apply for a visa for the customer's country immediately. When the machine arrives at your factory, our engineers are ready to start the commissioning service.
(4) Our 1-2 engineers will come to your factory to install and adjust the production line to achieve normal production in the shortest time.
(5) It is the responsibility of our engineers to train and teach the workers how to operate, clean, maintain and repair all the machines until the workers can operate the production line well.
The above is the introduction of chocolate bar and chocolate bar making machine. After reading it, I think we all have a certain understanding of this. All of SINOFUDE's equipment has stood the test of time. We have advantages over our peers both in terms of quality and price. We always provide quality and thoughtful service.
If you want to buy chocolate bar machine or other equipment, feel free to contact us! You can also come to visit our factory in person, warmly welcome your visit! Looking forward to becoming long-term friendly partners with you, to achieve a win-win situation!