Chocolate Melting Machine
Shanghai SINOFUDE Machinery Co., Ltd. is a confectionery equipment manufacturer integrating R&D, production, sales, and service. We mainly develop and produce toffee production lines, chocolate production lines, lollipop production lines, chocolate melting machines, etc., which have far -reaching influence in the confectionery industry.
Chocolate is always a kind of candy favored by consumers, and its delicate taste makes people can't refuse. However, the production process of chocolate is complicated, and if you want to produce chocolate with delicate taste and easy storage, you need to use professional machinery. Our chocolate tempering machine has very superior performance and has introduced the most advanced international technology for production, which has reached the world-leading level.
We are committed to providing high-quality equipment for the confectionery industry, and SINOFUDE has won the trust and praise of customers at home and abroad in pre-sales, in-sales, and after-sales services, and we will always be active and pioneering in the principle of honest management. If you need, welcome to contact us!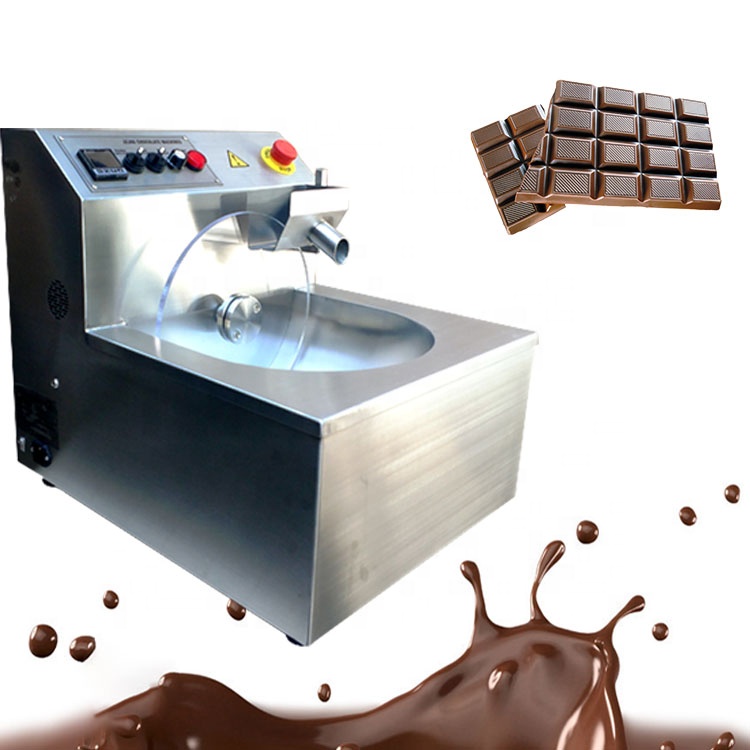 Chocolate Melting Machine Recommend Products
Chocolate Melting Machine Detail Introduction
chocolate melting machine

The process flow of chocolate melting machine: feeding→heating→cooling→reheating→discharging.
The raw material of chocolate contains about 30% cocoa butter, which is a continuous phase in the dispersion system and its state determines the final characteristics of the chocolate. The ultimate goal of temperature regulation is to produce the highest percentage of crystalline chocolate, which makes the produced chocolate more delicate and of higher quality.
The machine to melt chocolate plays an important role in the production process of chocolate. The machine can strictly control the temperature required at each stage of the chocolate tempering process, the release of the chocolate from the mold, and the quality of the final product. The melting machine is a very professional chocolate production equipment, which is developed and produced according to the characteristics of cocoa butter and cocoa butter-like tempering grease, with excellent performance.
The chocolate melter adopts the vertical structure, the chocolate paste is input from the bottom of the temperature regulating the main machine by the paste pump, and the temperature is regulated by four temperature regulating areas and the heat preservation area to complete five levels successively so that the temperature curve of the chocolate paste meets the process requirements, and the chocolate product is crystallized with excellent taste, smooth, bright without ashes and good preservation function.
More Description

Shanghai SINOFUDE Machinery Co., Ltd. has exported it is chocolate melting machine to many countries and regions around the world, such as Singapore, Canada, Japan, Egypt, Argentina, Ethiopia, the United States, etc. Our customers have given us very good comments and have referred us to many customers. Our customers have given us very good comments and referred many customers for us.
In the process of development for many years, we have summed up very rich practical experience, because we have served countless customers at home and abroad, so we understand the real needs of our customers, from the service experience, in this constantly improve our chocolate melting machine, to provide our customers with the most superior performance equipment.
To be more in line with the needs of consumers, we have investigated the market in-depth, certified to listen to the views of consumers, sincerely for the sake of our customers, now our production and sales of chocolate tempering machines can meet the needs of different countries and regions of the market, equipped with a variety of different chocolate production process, customers can according to their actual needs The machine can be adjusted according to your actual needs.
As a new type of confectionery machine, the machine to melt chocolate has been tested by the market and has shown obvious advantages in the process of actual use, helping customers to win the recognition of consumers and also harvest a broader market.
The melting equipment is made of food-grade stainless steel, which is safer and more hygienic when processing and producing chocolate, and also more resistant to wear and tear corrosion resistant, and very easy to clean. The machine's components and motors are all internationally renowned brands, and in terms of quality, the chocolate melting machine is among the best of its kind.
The chocolate tempering machine can process and produce different types of chocolate, including dark chocolate, white chocolate, and milk chocolate, with adjustable processing methods, temperature, and time control. The chocolate tempering machine can produce different types of chocolate, including dark chocolate, white chocolate, and milk chocolate, with adjustable processing methods, precise temperature and time control, and a more stable chocolate form.
To further improve the popularity of our company, to be able to achieve the goal of long-term development, we have always insisted on providing our customers with the most cost-effective equipment over the years, we never attract customers with low prices, we can't promise you that the price of our chocolate melter is the lowest in the market, after all, you get what you pay for, but what we will guarantee you is that we sincerely hope that our customers will develop together with us, and we also hope that we will not only cooperate with our customers but also be friends.
Nowadays, we still insist on investing a lot of money in R&D innovation, all our chocolate melting machines and other equipment are produced according to CE, ISO, and other standards, strictly in line with the import requirements of various countries, and now we have not only gained the recognition of our customers for the quality of our equipment but also won some innovative awards and gained the industry's recognition!
SINOFUDE will provide very perfect pre-sales, sales, and after-sales services, if you have special needs, we can also customize chocolate tempering machines for you, we actively participate in the promotion and industry exchange activities, we also warmly welcome domestic and foreign customers to our company to visit, visit and technical exchanges!
chocolate melting machine: complete buying guide.

Are you very interested in the processing and production of chocolate, do you want to engage in the production and operation of chocolate, chocolate melting machine is your most trustworthy choice!
Some common questions about chocolate and chocolate tempering machines will be answered in detail below.
1. What is the effect of chocolate on the human body?

Advantages.
1. Chocolate is very rich in flavonoids, which can regulate the immune function of the human body, and regular consumption of chocolate can improve the immunity of people.
2. The polyphenols in chocolate can reduce the activation of platelets, ensure the health of cardiovascular and cerebrovascular, which is beneficial to the health of the heart.
3. The tannins in chocolate can reduce the plaque on teeth and play a role in protecting teeth.
Hazards.
1. Chocolate is rich in fat, eating too much will lead to fat, too much fat can also cause high blood pressure and other diseases.
2. Eating too much chocolate can produce a strong sense of satiety, which affects the appetite.
3. The active acid in chocolate can cause headaches.
2. How much chocolate is better to eat at a time?

Chocolate can replenish energy and help people who participate in sports to recover quickly, but chocolate has a high-calorie content, so you should not eat too much, and eat in moderation, almost 2 or 3 times a day, each time the amount of control is about 50 grams is enough, and pay attention to a balanced diet and effective exercise.
3.Parts of the chocolate melting machine

1. Pure copper motor: low noise, dynamic and stable, can work continuously
2. Dustproof engine base: built-in stainless steel bearings with dust cover to avoid dust and grease dirt into the oil tank.
3. Flat cover with double-opening cover and handle: easy to operate and convenient to use.
4. Inlet and outlet, available port connection: easy to clean, no dead ends, beautiful appearance.
5. Observation window: tempered glass material, threaded connection form.
6. Electric heating: the mezzanine is equipped with an electric heating rod.
7. Stainless steel stirrer: frame type stirrer, including paddle, scattering disk, scraper, ribbon, etc.
8. Electric heating tube: Adopt the form of a threaded connection, easy to assemble.
10. The liner is made of imported material: resistant to 300-degree high temperature, not easy to leak.
4. Benefits of chocolate melting machine

1. Machine to melt chocolate is made of food-grade stainless steel, in line with GMP standards, reliable quality, and easy to clean.
2. The machine is designed for melting solid fats, including cocoa butter, cocoa liquor, and vegetable fats, and is very versatile.
3. The chocolate melter is compact, easy to install, and more practical.
4. Using the energy-saving design, low energy consumption, which can help manufacturers reduce production costs.
5. Siemens sensor ensures the sensitivity of electric control and heat preservation efficiency, integrating pouring, vibration, and automatic temperature control in one.
6. The material tank is easy to take out, easy to clean, and easy to control the temperature.
7. The pneumatic part, electrical part, and operation part all adopt advanced world famous brand components.
8. Low price, high-cost performance, can effectively help the majority of chocolate manufacturers to reduce costs and obtain higher economic benefits.
5. Industries using chocolate melting machine

The chocolate tempering machine is necessary equipment in chocolate production, mainly used for melting chocolate and tempering chocolate to meet the process requirements of chocolate production and adapt to the needs of continuous production. The equipment has the functions of cooling, heating, heat preservation, etc . It can stir the chocolate syrup constantly, and also has the functions of degassing, degassing, dehydration, etc. Nowadays, it is widely used in the production and processing of chocolate, which applies to different industries such as food companies, laboratories, and stores for on-site pouring.
6. Why do we need to adjust the temperature of chocolate?

One of the most important processes in the production of chocolate is the tempering process, which is not simply a rough melting and solidifying process but is mainly related to the cocoa butter in chocolate. The chocolate we eat has a soft and delicate luster and a dry and hard texture, but it melts in the mouth because of the cocoa butter.
The structure of cocoa butter tends to be quite regular, which facilitates their interconnection to form a stable network of fat crystals so that chocolate stays dry at room temperature and is less likely to leach free fat molecules. However, this stable structure is not always easy to achieve. To achieve this state, the melting and temperature of the chocolate must be controlled, ie, tempered, as the cocoa butter can form unstable fat crystals if care is not taken.
The purpose of tempering is to avoid unstable crystals in the process of chocolate re-condensation and to promote stable and dense crystals in the chocolate.
7. How chocolate melting machine Works

1. The chocolate tempering machine uses the principle of heating up, cooling down, and heating up again to process the chocolate, so that the crystals in the chocolate become stable from unstable to stable, thus obtaining a bar of higher quality chocolate.
2. First, the raw chocolate blocks passing through the hopper are melted into the stainless steel basin.
3. Then, you can control the automatic thermostat, which is adjusted to the production process, to collect the paste on the turntable.
4. Later, the pouring process will be done by hand, with several styles of custom molds.
Next, the excess chocolate is scraped off the edges of the mold with a spatula and the mold with the chocolate is placed on the table to cool and de-mold.
6. Finally, the shaker helps to coat the chocolate.
8. Support equipment to buy with chocolate melting machine

If you want to form a complete production line for chocolate production, you not only need a chocolate melting machine, you also need some supporting equipment, such as a cocoa liquor melting tank, pump, cocoa butter melting tank, chocolate mixing machine, fine grinding machine, refining machine, mold pouring machine, tray table and packing machine, etc.
9. What is the quality of the machine to melt chocolate?

1. SINOFUDE has been specializing in casual food machinery for more than 20 years.
2. We have a strict quality inspection department to check the 12 hours working condition of all machines to melt chocolate before delivery to ensure quality.
3. We provide a one-stop installation service
4. 12 months warranty service is available after delivery.
5. Free replacement parts will be provided for quality problems under normal use during the warranty period.
10. Chocolate melting machine Validation Documents

Our chocolate melting machines are manufactured per CE, ISO, and other standards, in compliance with GMP standards, with reliable quality and smooth operation, and have now been certified by many international organizations such as CE, FDA, and ISO, and comply with import standards of many countries and regions.
11. How much chocolate melting machine Cost

The price of a chocolate melting machine is affected by many factors, including the size of the machine, production capacity and the degree of automation, etc. We can provide many different types of machines of different sizes, whether you are a large enterprise or a small factory, we can customize it for you according to your needs. For small equipment, our price is around $1000, for large equipment, our price is around $10,000, if you need it, welcome to contact us.
We always believe that quality is the first factor in choosing a chocolate tempering machine, we try to provide lower prices for our customers based on quality assurance, although we can't promise you that we have the lowest price in the market, we can promise you that our equipment has the highest quality within the same price.
12. Types of chocolate melting machines in the Market

According to the degree of automation, our chocolate tempering machine can be divided into fully automatic and semi-automatic, fully automatic is easier to operate, adjustable process, superior performance, greater output, but the corresponding price is also higher than the semi-automatic . We can recommend the most suitable machine for you according to your needs, and we can also provide customized service.
13. Chocolate melting machine Maintenance Process

1. Cleaning equipment: After daily production, clean the equipment in time, especially the residue in all corners of the machine, otherwise it will affect the hygiene standard of chocolate after a long time. Cleaning can be directly flushed with the water pipe, and the corners can be wiped with a wet towel.
2. Oil-proof treatment: chocolate melter in the use of a week or half a month, to pay attention to the use of parts, the need for timely oil injection to prevent equipment rust, affecting the use of time.
3. bearing: bearing internal grease, according to the use of the appropriate amount to add and replace, to extend the service life of the bearing.
4. Timely maintenance: if the equipment is in the use of the process of some small failures, to timely maintenance, to prevent small failures into a major failure.
14. What are our services?

Pre-sales service
1. We will guide you to choose the most suitable machine to melt chocolate for your project.
2. When signing the contract, we will inform the supply voltage and frequency.
3. Complete testing and adjustment will be carried out strictly according to the customer's requirements before shipment.
After-sales service
1. Provide technical service.
2. Provide installation and on-site training service. Technician installation and commissioning costs including round-trip tickets, inland transportation, accommodation, and food will be borne by the buyer. A service charge of USD 60.00 per technician per day.
3. One-year warranty for standard operation. Lifetime technical support will be provided.
15. Future of chocolate melting machine

Chocolate is very popular among consumers and is always in high demand in the market, under this demand, the chocolate melting machine will also show an increasingly prosperous state, at the same time, the market also put forward higher requirements for this equipment. First of all, to improve the level of the chocolate production process, especially to improve the temperature control process will become the most important, because now the production process of chocolate is very strict requirements, the slightest carelessness will lead to poor quality chocolate, the future production process of chocolate equipment will become more simple and efficient.
In addition, how to simplify the production process of chocolate, set all the links in one piece of equipment, save the workshop space of manufacturers and other issues will also be effectively solved. In the future, perhaps 3D printing technology will also be applied to chocolate tempering machines to produce more high-quality chocolate recognized by consumers.

16. Why choose Shanghai SINOFUDE Machinery Co., Ltd.'s chocolate melting machine?

Shanghai SINOFUDE Machinery has more than 10 years of development history, we have a professional R & D team and professional equipment, specializing in the production of chocolate forming machines, chocolate coating machines, chocolate coating machines, chocolate melter, chocolate granule mixing machines, and other kinds of chocolate equipment.
Our machine-to-melt chocolate is very popular in the food industry, and at the same time, the chocolate produced by our equipment is also recognized by the majority of consumers and is at the forefront of the confectionery industry. Besides the domestic market, our machines have been widely sold to many countries and regions around the world, such as Germany, India, Vietnam, Korea, Canada, Australia, Russia, Ecuador, Malaysia, Romania, Israel, Peru, etc.
We provide OEM service. At the same time, our equipment provides lifelong after-sales service for global customers. SINOFUDE has established a long-term good partnership with various cooperative enterprises in the long-term development process with excellent product quality and good product performance , and we will always stand in the consumer's perspective to provide the perfect one-stop service for food enterprises! We are looking forward to your visit!