Toffee Making Machine
SINOFUDE Machinery is a professional company and agency engaging in candy, chocolate, biscuits, cakes, and other foods machinery and related materials. Its main products are biscuit machinery, candy machinery, pastry machinery, baking equipment, and other machines. The machines have been exported to many countries both at home and abroad, which are deeply trusted by customers.
The company gathered many scientific and technological talents, and it is market-oriented, so the products continue to get advanced. We have a perfect service system, and with the continuous progress of the product technology, we also provide users with product upgrade services, installation guidance, product debugging, and technological support.
We always anticipate customers' needs and thank our new and old customers at home and abroad with more advanced technology, excellent service , and reasonable price. If you need a toffee making machine or other food making machinery, you can contact us at any time, we will give you an excellent service.
The toffee casting line is specially designed for the production of high-quality toffee. Adopting steam cooking way and equipped with an adjustable spatula to avoid burning during cooking, and it can create a special caramel flavor. It is the ideal equipment for high-quality products, saving manpower and covering space.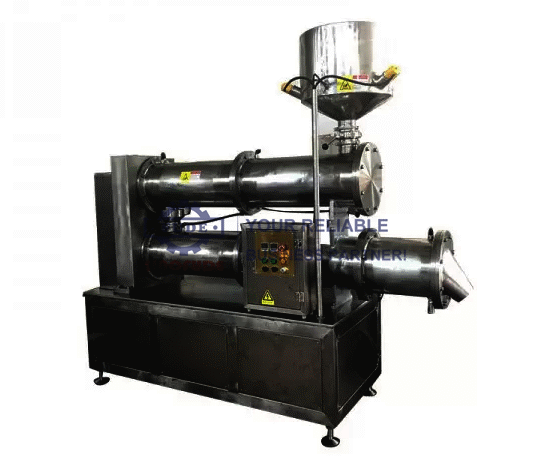 Toffee Making Machine Recommend Products
Toffee Making Machine Detail Introduction
Composition of Toffee Making Machine
The toffee making line is composed of a melting furnace, gear pump, storage filter, storage tank, discharge pump, color aroma mixer, color aroma mixer, toffee quality pot, cooling tunnel, and electric control cabinet, etc .
The production process of toffee
Sugar dissolving → filtering → sugar boiling → additives adding→molding → cooling → defilming → packaging
The candy production line has been teemed and combined many times, which integrates the control of machine, electricity, and gas as one. The structure becomes rational and compact with high automation and production efficiency. The whole production line is manufactured according to the standard of food machinery and meets all the requirements of food hygiene, so food enterprises can easily pass the food certificates.
The candy produced by this machine is glittering and translucent and has a clear spray stripe, stable filling quantity, good taste, etc, which is welcomed by customers at home and abroad. Moreover, our mold is the best silica gel mold, and we have advanced equipment with ultra-high temperature and pressure, it is not easy to stick together.
Our main candy machinery production lines are hard filling toffee production line; Chewing gum production line; Double-color and multicolor gum production line; Lollipop production line; Special hollow ball-shaped gum production line; Toffee production line; Double-color egg roll production line; Sugar coating machine, pulverizer and other candy equipment.
The most common confectionery machines are automatic candy coating machine, creamy candy production line/double bladed cutter machne, egg roll production line, high-speed grinder, Toffee Making Equipment, double-color gum line, ball-shaped gum production line, lollipops making line, hard candy fur lacing machine, candy forming machine, cooling machine, three-layer candy production line / 680 type mixer, xylitol chewing gum machine, chewing gum Production line/mixer, chewing gum production line/extruder, milk candy production line- molding machine head, hard sugar molding machine, etc.
For a long time, SINOFUDE has adopted foreign advanced technology and engaged in the investment of all kinds of potential food machinery factories. It has designed and developed the most advanced complete sets of food machinery. Its packaging machine and machines for candy, chocolate, cake, bread, and biscuits have many advantages, such as centralized function, easy to operate, highly automatic, high quality, etc. most of the products have obtained CE certification.
Our machines will be installed before delivery. We do provide video support for any operation assistance the buyer needs. If the buyer needs technical assistance, we can send our personnel to the local area for help, and you will be amazed by our considerate service.
If you have any needs, you are very welcome to visit our factory, and we look forward to establishing long-term cooperation with you, when you need further support, please feel free to contact us.
Toffee Making Machine: The complete buying guide
If you love toffee, and want to make toffee, or want to start a business in the toffee industry, then the following tips will help you a lot. Questions about toffee and the toffee making machine will be answered below.
1. Introduction of toffee
The English word "Toffees " means western candies and is a general name for a variety of sugar, it refers to hard and chewy candies made from brown sugar or molasses and cream. The Chinese name "tai fei" is transliterated from "toffees", sometimes it is called "tuo fei", the original meaning is soft but with certain ductility. It is usually made of condensed milk, cocoa syrup, cream, glucose syrup, vanillin, and hazelnuts, and is carefully stirred and baked. It has a sweet taste with fudge inside.
Toffee is a dessert made by heating butter and sugar to a temperature known as the hard crunch stage, then pouring the mixture into molds and allowing it to cool; Some people add some ingredients to make them chewier. Toffee is popular in many parts of the world, especially those with large populations in the UK, and there are many changes on the basic recipe, some chefs use white sugar in their toffee instead of butterscotch, caramel.
2. The method to make toffee
Toffee is a mixture of condensed milk, cocoa syrup, butter, glucose syrup, vanillin, and hazelnuts that is carefully stirred and baked by a medium- or large- machine. Various flavors are available such as milk chocolate, plain, almond, hazelnut strawberry, cherry, orange, pineapple, etc. Different flavors of toffee taste different, so you can make your own toffee.
3. The impact of toffee on people
(1) After the intake of too much sugar, it can be converted into human fat, causing obesity in children and becoming a potential cause of cardiovascular disease.
(2) Sugar only provides calorific for us but no other nutritional value. If you eat too much sugar every day, other nutrients will inevitably decrease, resulting in the lack of protein, vitamins, and minerals in the body, which is very easy to lead to malnutrition.
(3) After eating much sweet, it may give lactobacillus in the mouth beneficial activity standards. Once sugar stays in the mouth, it is very easy to be dissolved by lactobacillus, generating acid that further corrodes the tooth calcium , then causing dental decay.
(4) eating too much sweet, children may lose appetite. They have to suffer from dental caries, such as chewing pain, bite weakness, it also affects their appetite, over time, they will eat less and be lack nutrition.
(5) Too much sugar intake easily generates too much gastric juice, so the stomach is too tense, causing stomachache.
(6) Children who are used to having desserts usually hate food without sweetness, and in the long run, causing poor appetite.
The calories and fat content of toffee are relatively high, after having some toffee, people will feel full, sometimes it can't get timely digested. And the heat will be converted into fat, over time, it is not good for the human body.
4. Types of toffee
There are many kinds of toffee, generally common ones are saltwater toffee, milk toffee, and peanut toffee, etc. We can make toffee according to our favorite flavor, the following is the introduction of peanut toffee, if you are interested, you can try to make it.
(1) Wash and dry the peanuts, place them in a shallow and wide plate, then fry them under high heat for 10 minutes (stir them every 2 minutes), after that, take them out and cool them, then peel them off for later use.
(2) Mix maltose, white sugar, and salad oil well, cook them for 12 minutes at medium and high heat to get sugar solution, then put the peanuts in the sugar solution, cook them till you get caramelized syrup.
(3) Get a shallow mold, grease the inside of the mold, fill it with peanut candy, squash it, and cool it, and then cut it into pieces.
5. The introduction of the toffee manufacturing machine
The Toffee Maker Machine is an advanced candy pouring machine developed by SINOFUDE machinery manufacturer for customers. This machine can produce all kinds of high-quality candy, including hard candy, soft candy, lollipop, toffee, etc. The candy produced by this machine is smooth, clear, and tastes good, which is favored by customers.
Our toffee production line is composed of a sugar boiling machine, cooling device, batching roller, rope setting machine, forming machine, caramelized cooling machine, and packing machine, which can produce different shapes of toffee. The whole production line is controlled by electricity and gas, which is easy to operate with high production and high efficiency, more importantly, there is no waste of sugar. It is the ideal equipment for high-quality toffee.
6、Types of Toffee Making Machine in the Market
There is a variety of candy machinery in the market. They are chocolate machine, maltose machine, fudge machine, Toffee Candy Machine, and so on. SINOFUDE machinery Factory has all types of candy making machines to choose from, but it also supports customized service.
7、How Toffee Making Machine Works
The basic principles of candy production are pretty much the same, the differences are the properties of the ingredients and the shape of the candy. First, put the prepared ingredients needed for candy in the sugar boiling machine to be melted under a high temperature that is about 109 degrees Celsius. Then put the melted syrup in the 120-degree- Celsius vacuum sugar machine,then put it in the mixer for mixing, and cooling in the cooler, and then molding. and after three minutes of cooling through the conveyor belt, it is ready to be packaged individually. One thing is that pay extra attention to adjust the temperature , and finally, it's the second packaging, that's the candy we see in the supermarket.
8、Benefits of Toffee Making Machine
(1) The PLC is a famous brand with stable performance. we just set programming it will automatically control the vacuum sugar boiling temperature, time, heat, and teeming speed.
(2) The large touchable screen displays the process flow chart, the working state of each part, temperature, teeming speed, and other parameters settings, making it easier for users to operate and master it.
(3) Frequency conversion regulation ensures the accurate flow of sugar liquid and a stable condition of sugar paste.
(4) The dynamic mixer completes the quantitative filling and mixing of flavorant, pigment , and acid online.
(5) Conveyor chain belt, cooling system, double demolding mechanism ensure to remove the mold successfully;
(6) The main power of the machine comes from the air compressor, and most of the mechanical action is completed by the cylinder.
(7) Its mall volume and compact structure with good mobility make the teeming quantity and speed easy to adjust and control.
(8) the signal control system allows it easy to adjust and operate. The mold testing equipment can control the machine and make it shut down automatically if there are no molds.
9. Main production flow
Raw materials dissolving → conveying → preheating → cooking → refueling and seasoning → storage → cooling → demolding → packaging → finished products
10、Parts of Toffee Making Machine
The Toffee Candy Making Machine is composed of a melting furnace, gear pump, storage filter, storage tank, discharge pump, color aroma mixer, color aroma mixer, toffee quality pot, cooling tunnel, and electric control cabinet, etc .
11、Industries using Toffee Making Machine
The toffee production line can produce toffee, toffee sandwich candy, hard candy, lollipop, flat lollipop, sandwich hard candy, single-color /double-flavor and double-color flower candy, double-flavor and double-color/ double-layer candy, three-flavor and three-color flower candy, crystal candy, sandwich candy, stripe candy, and SCOTCH candy, etc. By adding more equipment, you can make spherical jelly, eye jelly, popping sandwich jelly, double-color cola candy, colorful candy beans, gelatin jelly, pectin jelly, carrageenan jelly, sandwich jelly, dimensional jelly, and so on.A number of well-known Toffee Making Plants have reached a long-term friendly relationship with us
12、Toffee Making Machine Maintenance Process
Regular equipment inspection is an effective means to know and monitor the technical condition of equipment in time. It is also the basic work of maintenance. It is important to work to ensure the normal operation of the equipment to find and solve hidden problems timely. Sudden failures and accidents can be avoided through inspection.
(1) Daily inspection
During the daily inspection, the operator shall check the technical condition of each part of the equipment according to the specified standard with common senses to find the hidden problems in time, take measures and minimize the loss of failure and shutdown. For key equipment, each shift operator should check and record the data according to the equipment check card or check it at a certain time. During the inspection, maintenance personnel shall timely and effectively eliminate the anomalies recorded on the spot check card to ensure that the equipment is in good working condition. During the inspection, the maintenance personnel shall timely and effectively eliminate the problems recorded on the spot check card to ensure that the equipment is in good working condition.
(2) Regular check
According to the specified inspection period, the maintenance team shall carry out a comprehensive inspection and measurement of the equipment performance, solve the problems found in time, and record the inspection results carefully as the basis for future plans of equipment maintenance.
(3) Accuracy check
This is the measurement, analysis, and adjustment of geometric accuracy, machining accuracy, and installation level of equipment, which is conducted as planned by dedicated inspectors. The purpose of this work is to determine the actual accuracy of the equipment and provide a reference for equipment adjustment, repair, acceptance, and scrap. Checking the equipment and recording the status information accurately can provide a reliable reference for future maintenance.
13、How to Troubleshoot Toffee Making Machine
(1) After the production, the equipment should be cleaned in time to remove some residues on the surface and ensure the cleanliness of the equipment, so the quality of food can be guaranteed when the equipment is used next time.
(2) After a long time of operation, the toffee production line should be checked completely, check the working condition of each component, repair problems immediately, and add enough lubricant to the bearing, check the oil in the gearbox, reduce the wear and consumption of the machine parts to prolong the service life of the equipment.
(3)check the operation of the machine in advance before using. For example, check if it works normally, to avoid problems appear during the production, affecting the quality and output of food.
14、Future of Toffee Making Machine
Toffee is a high-grade candy with caramelized flavor. It is rich in protein and fat, delicate, smooth, with a certain ductility, and crispy. Its color is milky yellow or brown with luster. For a long time, it has been one of the best candies, deeply flavored by the majority of consumers, and it has a broad development prospect .
In recent years, it is said that the development of China's candy industry is thriving, while the soft candy industry is also facing fierce competition, which also drives the development of related industries. As one of the two traditional pillar snack industries in China, the confectionery industry has maintained rapid growth and its potential market share has been expanding.
With the gradual expansion of the development scale of the candy industry, the candy production technology has been more sophisticated,variety of flavors can be seen in the market, making the industry more and more competitive in the whole candy industry, the overall candy market is also seen growing.
All in all, being engaged in the candy industry is a very good choice, which will bring you good economic benefits and help you to succeed. If you have the plan or are already engaged in the candy industry, and needs, you can consider our toffee making machine or other machines, we will provide you with high-quality machines and the most favorable price.
15. Factors that affect equipment price
(1) Certificates ( U L&C E)
(2) Machine GMP standard (SUS304/SUS316)
(3) Different candy molds
(4) To expand the transformation system
16、Toffee Making Machine Validation Documents
The ingredients used in the production of confectionery must follow the provisions of national standards and industrial standards. For example, The materials selected must under production license management. SINOFUDE Toffee Making Equipment has passed all the verification and is always in line with food hygiene and safety standards, and quality assured.
17. What are the standards for our toffee production line?
(1) 304 stainless steel GMP standard. (whole machine)
(2) Imported electrical components (Siemens, Schneider, ABB)
(3) The surface is sandblasted (including the side)
(4) Whole-body welding
18. Our advantages
(1) We are one of the leading confectionery manufacturers in China, specializing in the production of chocolate, chewing gum, bubble gum, tablet/mint candy, vitamin candy, fudge, lollipop, milk candy, toffee, etc.
(2) With years of manufacturing experience, we are dedicated to becoming your potential/reliable supplier.
(3) We ensure you first-class quality, on-time delivery, competitive price, and considerate services.
(4) Sound quality assurance and quality inspection management.
(5) We have the most advanced equipment imported from Germany, Italy, and Switzerland, ensures high production capacity and first-class quality.
(6) We have a professional research and development team and effective teamwork.
(7) Samples are available on request for free , you only need to pay for the shipping fee.
(8) We seek dealers/partners worldwide on the basis of mutually beneficial business.
19. Warranty and after-sales service
(1) The warranty of the Toffee Maker Machine is one year.
(2) Spare parts are free during the warranty period, except for fake operations.
(3) We provide layout design for free, detail and installation guidance, and excellent training for the local team .
(4) Our experienced engineers can set up the machine for you according to the requirements.
(5) Provide 24-hour technical support service via email and mobile phone.
With a strict quality assurance system, perfect management system, quality products, and sound after-sales service, SINOFUDE machinery manufacturers have always been outstanding in the machinery industry. After years of development, the company has developed an experienced sales team. We have gained access to Europe, the Middle East, Africa, and other markets due to our own advantages. Our customers are all over the world, the development of our company has become stronger and stronger. We effectively control the production cost of the equipment, so you can get a better price, thereby reducing the toffee manufacturing plant cost.
SINOFUDE machinery manufacturer treats every day as a new beginning and insists on continuous hardworking and innovation. Earnest and practical work and unremitting pursuit are our enterprise faith. We have committed to quality and reputation first, which is the basis of winning the market; Reliable teamwork is the secret for us to build a first-class team. Believe us, choose us, you will not regret it!