Marshmallow Production Line
Shanghai SINOFUDE Machinery Co., Ltd. is a professional modern candy manufacturer combining the R & D, manufacturing, and sales of candy as one. Now it has had many years of production experience and is one of the world-famous food machinery exporters, providing high-quality marshmallow production lines for many well-known enterprises at home and abroad.
Its marshmallow machinery can continuously produce a variety of marshmallows with all kinds of colors and shapes. With the most advanced production technology and very strict
standards, the production of the candy has always been at the leading level in the industry, and widely recognized by consumers.
Now, marshmallow has become one of the most popular types of candy, no matter what age group or what kind of group are all fond of marshmallow, so the marshmallow has a very broad market prospect. If you have the intention to engage in this industry, SINOFUDE is your ideal choice.
As a professional food machinery manufacturer, Shanghai SINOFUDE not only provides you with high-quality equipment but also provides you with perfect services, solving all your problems.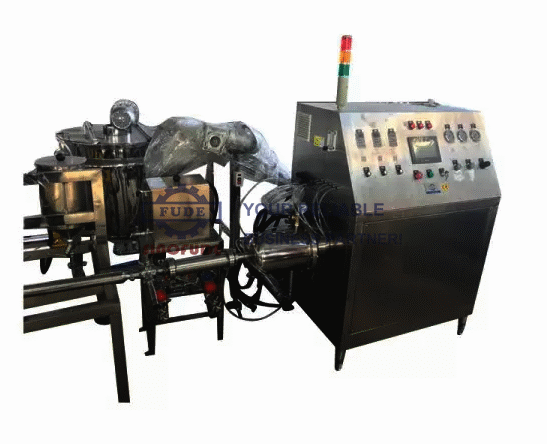 Marshmallow Production Line Recommend Products
Marshmallow Production Line Detail Introduction
Marshmallow production line
The main production process of the marshmallow production line is sugar dissolving - mixing - aerating - molding - cooling - applying powder/oil - balancing - packaging.
First of all, prepare the required materials according to the formula, then put them into the premix machine to mix and heat till they got dissolved. Once the mixture gets dissolved, the slurry is poured into the digester cooked to the desired humidity.
After the mixture is cooked to an ideal state, it is cooled to room temperature.
The cooled mixture is inflated through an aerator and adds some flavorant and pigment to get different colors and flavors.
The mixture is then extruded through molds that make different shapes of marshmallows while being cooled again on a cooling conveyor.
Then the treated marshmallows are dusted with starch to prevent sticking together or with icing sugar for rich flavors, before being cut to the desired length.
After that, the finished marshmallow is further processed in a powder chamber to remove excess starch and icing.
The last step is the packaging. Package the marshmallow through a packaging machine, the product is completed.
More Description
Shanghai SINOFUDE Machinery has a very rich experience in research and development, its developed marshmallow equipment has been exported to Western Europe, the United States, Southeast Asia, Russia, and other countries, and has made outstanding contributions to the development of the local candy industry.
Its machinery has very superior performance, and stainless steel material ensures the quality of equipment, a longer service time, and is also easy to clean. SINOFUDE not only provides a more comfortable processing and producing environment for manufacturers but also provides consumers with more clean and sanitary candy.
Highly automated production can effectively reduce the labor and time cost of manufacturers, and produce high-quality marshmallows, which is the most favorable factor for manufacturers to stand out in the competitive market.
The marshmallow production equipment is innovative, its PLC control system is easy to operate with strong production capacity, which can produce square, round, watermelon shape and other shapes of marshmallows, and even can produce marshmallow sandwich, and multicolor marshmallows, its application is very wide.
Shanghai SINOFUDE has always been in the front of the market, is the leader in the confectionery industry, and has mastered the latest developments in the market, and never stopped the pace of innovation. We continue to improve the quality and management level and has achieved remarkable technical innovation. After years of development, we have successfully obtained the ISO9000 certificates and several patents.
Now our marshmallow machinery has sold well in both domestic and foreign markets and established a perfect market network in many countries and regions, helping local enterprises to further expand their market. We have such a strong development advantage, not only because of our high-quality equipment but also because of our perfect service.
We can provide customers with customized services, installation guidance, training and warranty services, etc., if there are any subsequent problems feel free to contact us, we will solve them for you.
Now the marshmallow is one of the best-selling products in the market, it is no longer just a candy in our life, it's more considered as a decoration. Choosing a high-quality marshmallow production line will help manufacturers further expand the market and win more profits.
In the years of development, we know well the needs of the partner and all the problems that appear during the process. Besides improving the performance of our machines, we also effectively controlled the cost, so that manufacturers have more preferential prices to get more high-quality equipment and their career becomes easier.
Our principle is to put customers first and always commit to integrity to achieve win-win cooperation. If you want to improve your production efficiency and get higher profits, you are welcomed to contact us, we always welcome customers both at home and abroad to our factory to negotiate business. I believe that hand in hand, we can create a brilliant future.
Marshmallow Production Line: Complete Buying Guide
The marshmallow has a very broad market, do you want to engage in this industry?
There are some common questions about marshmallow and marshmallow production line, the following will be your answers:
1. What are marshmallows?
Marshmallow is now a very popular type of candy, and it is mainly made of sugar, gelatin flavorant, pigment, and other materials. It's loose and porous with a certain ductility taste and its texture is similar to cotton. Marshmallow is very popular in all ages.
2. What do marshmallows taste like?
When you first taste marshmallows, it may bring you a very amazing experience, because it's not like traditional candy, you feel like eating cotton, and there is a feeling of eating powder. But after chewing a few times, it will bring you a different experience, a soft, sweet smell, will spread instantly in your mouth.
3.How Marshmallow Production Line Works
Humidity control in the marshmallow production line is very critical, it will directly determine the quality of the candy,can neither be too high nor too low.
Prepare the ingredients first according to the recipe, then the ingredients are mixed and cooked in an automatic vacuum pot, usually under high pressure, which can effectively shorten the cooking time to obtain the required moisture.
After cooking, the mixture will be put in the equipment through the hopper, which conveys it to other stations on the production line for further processing.
Then the gelatin and water are mixed and added to the mixture material. After mixing,it is cooled to about 55℃. After cooling, the mixture is fed into a mixing chamber and inflated to reach the desired density.
Once inflated, the mixture is cooled again, from 55°C to 38°C, after that the booster pump adds different colors and flavors addictive into the mixture.
Sprinkle some starch on the mixture to prevent it from sticking.
Put the mixture in the molding equipment, then extrude different shapes through the extruder,and change the mold of the extruder can directly change the shape of the marshmallow.
The finished marshmallow is put into a roller that rotates quickly to remove excess starch.
Now the marshmallow production was finally completed, and the candy was ready to be packaged through a packing machine and sold to the public.
4. Benefits of Marshmallow Production Line
(1) It is made of stainless steel; it's durable, easy to clean, and has a long service time.
(2) High production capacity, it can produce hundreds of kilograms per hour.
(3) The marshmallow production line has a compact structure, covering less area.
(4) Its PLC control system is easy to operate and achieves highly automated production
(5) Marshmallow with different shapes and flavors such as strip, block, jam chocolate filling, etc can be produced by changing its ingredients and mold.
5.Parts of Marshmallow Production Line
Marshmallow production machinery is composed of an electric control box, powder conveyor, extrusion molding machine, forming, drying conveying system, sugar cutting, sugar device , and so on.
Its main components include:
(1) Hopper: Similar to a cone-shaped container, it can be used to hold various ingredients and is the first part of the marshmallow production line.
(2) Aerator: mix marshmallow raw materials with air to achieve the required density.
(3) Control panel: the "brain" of the marshmallow device that monitors and adjusts manufacturing parameters.
(4) Conveying device: convey the processed materials or material mixture to different devices to be further processed, is the largest device in the whole production line, and also the most critical connection device.
(5) Sensors: These are devices, modules, and subsystems that are integrated into the marshmallow production machine to detect the prompts and changes that occur. At the same time, the sensor also plays a very important role in the operation.
(6) Mixing tank: mix all kinds of ingredients, and has a heating function to get them fully melted and mixed.
(7) Motor: The starting part of a marshmallow manufacturing machine that converts electrical energy into mechanical energy.
(8) Cooling device: cooling system, quickly cool the ingredients, make it easier for the subsequent processing and production.
(9) Molding device: materials can be extruded into shape, different molds can produce different shapes of marshmallows.
(10) Drying device : remove excess moisture.
(11) Pneumatic device: provide different pressure to push materials to each processing link.
(12) Discharging device: The marshmallows can be discharged completely and quickly from the production system to facilitate the final packaging.
6.How much Marshmallow Production Line Cost
The price of marshmallow production line depends on the specific production technique, marshmallow equipment with the higher performance, the price will be higher.
Two main factors affecting the price, one is the level of automation, the other is the production capacity, the higher the level of automation, the greater the production capacity it is, then the price will be higher.
Normally, the price of a marshmallow production line is around $40,000 to $450,000n with a corresponding production capacity of 50-500kgs/h.
7.Support Equipment to buy with Marshmallow Production Line
The marshmallow production line is the machinery to produce marshmallows. To make your processing and production more smooth, you'd better equip with some supporting equipment before you put it into production.
(1) Plastic tray (dry marshmallow before packaging)
(2) Packaging machine (packaging needs to be completed automatically from bag-making to edge sealing. High-quality packaging will improve the quality of cotton candy significantly, so it is necessary to buy a high-quality packaging machine).
(3) Air compressor (air compressor is required during the aerator and packing)
(4) Cooling tower (part of suppliers of the marshmallow production line can provide)
(5) Steam boiler (mainly for large-scale marshmallow production line)
8.How to Verify Quality of Marshmallow Production Line
Production capacity: the high production capacity of the marshmallow production line in a limited time is more helpful for manufacturers.
Automation level: high level of automation of the machine means higher production efficiency and better performance.
Material: The best material for marshmallow equipment is stainless steel, which is strong, durable, wear and corrosion resistant, and easy to clean.
9. Types of Marshmallow Production Line in the Market
Marshmallow extrusion machine
This type of marshmallow machine can produce a variety of colors, sizes, and shapes of marshmallows and has a high utilization rate. It is suitable for small-, medium-sized enterprises and large factories.
Deposite marshmallow production machine
The equipment uses a plastic mold to produce marshmallows, it is mainly used in different types of sandwich items. One of the characteristics of the equipment is that it is compatible with all kinds of plastic molds, the application is also very wide.
Choose the most ideal one based on your own production needs.
10.Industries using Marshmallow Production Line
The marshmallow is a very popular new candy that has become dessert from candy with wide application in our daily life. From sweets, biscuit decorations, cupcakes, to drinks and Macarons we can see marshmallows everywhere.
Similarly, the application of the marshmallow production line has also become very extensive. Now it is no longer just used in the candy industry, it also plays a very powerful role in the beverage industry, biscuit industry, cake industry, and so on.
11.Marshmallow Production Line Validation Documents
The high-quality marshmallow machine has obtained a lot of certificates, some common certificates are as following:
CE
This certificate is commonly seen in exported equipment in Europe, and means that the equipment meets health, environmental, and safety standards.
FDA
Having this certificate means that the marshmallow machine meets the public's health standards and can produce a healthy and safe marshmallow.
CGMP
This certificate ensures the consistent quality and safety of products of the marshmallow production line.
12.How to Troubleshoot Marshmallow Production Line
During the production, if there is an improper operation or the maintenance is not in place, leading to a lot of failures and bringing great losses to the manufacturer. troubleshooting the failures of the marshmallow production line will effectively reduce the loss.
When there there any problems, you can check the look of the equipment first to see if there is a problem, and then check the control power supply, and the control components, including the control panel, and finally check different parts.
Only by checking details, can we solve all the problems and have smooth production.
13.Marshmallow Production Line Maintenance Process
Our machines are made of stainless steel with a longer service time. But still, you need to follow the following steps.
(1) Keep good daily maintenance to have a longer service time and reduce production costs.
(2) After the production, it should be properly cleaned to ensure the machine is clean and sanitary. The long-term small cleaning can reduce the subsequent all-around cleaning times.
(3) Once there is a problem, it should be repaired immediately. Don't ignore it and delay the repairing time, otherwise, it will cause greater failure, and remember to choose reliable parts or original parts.
(4) Regular inspection is very necessary, even if the machine works well, which can help manufacturers detect a lot of problems and avoid a lot of trouble.
14.Limitation of Marshmallow Production Line
The marshmallow production line has made great progress and achieved a qualitative leap driven by science and technology, but there are still some limitations.
The production of marshmallows has a very high standard in temperature control and humidity control ,etc. Any improper control will lead to low quality, which is still needed to be improved. Shanghai SINOFUDE has invested a lot of money in research and development to improve its performance.
15.Future of Marshmallow Production Line
The marshmallow will be one of the most popular candies in the future, and the marshmallow production line is bound to be hot. and machine in the future will be more versatile, some functions will be added, for example, it can produce gluten-free candy, which is the ideal choice for consumers who do not like gluten.
And the automation level will be continued to advance to make more types of candies. Shanghai SINOFUDE machinery has always been on the path of innovation and is dedicated to provide manufacturers with more inexpensive equipment.
16. Why choose Shanghai SINOFUDE Machinery Co., Ltd.?
Shanghai SINOFUDE machinery Factory has many years of development experience and enjoys a very high reputation in the industry. It has built long-term cooperation with many well-known enterprises, and its machines have been exported to many countries and regions, so the quality is guaranteed.
Our machinery is made of stainless steel and the components are from world-famous brands which provide more production power for manufacturers, and our highly automated production also makes outstanding contributions to production and processing. In a society with the rapid development of science and technology, only the machine with high efficiency can ensure stable production, and have more customers. Shanghai SINOFUDE machinery will meet all of your production needs.
More importantly, our production line has obtained many international certificates, such as ISO9001, CE, and FDA , etc. The quality of our products has been recognized in many aspects.
To benefit more enterprises, our engineers have effectively controlled the production cost, and we will give you the most preferential price. Although we cannot promise you that the price of our machine is the lowest, we can promise is that our production line is the most cost-effective at the same price as other suppliers.
The market demand for marshmallows in the future will continue to increase, the market prospect is very expected if you have the intention to engage in the industry, welcome to contact us, we are looking forward to our cooperation and the further development of the candy industry!